Rightwing symbols
:
Berlin wants to ban rightwing flags 
The black, white and red flags have been showing up at corona sceptic protests. Since they're associated with far-right ideologies, German states are calling for a ban.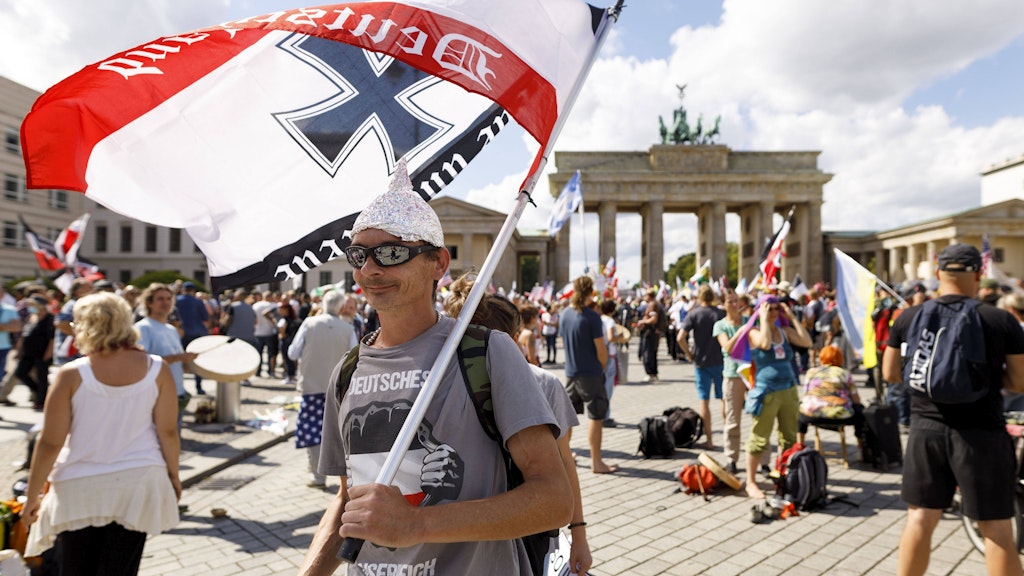 Berlin - The Berlin government is mulling a ban on Reich flags and Reich war flags, a spokesman for the city's interior ministry told Berliner Zeitung on Sunday.
The flags have been a constant sight at corona demonstrations. Emblems of the German Reich are often used by far-right groups as substitutes for illegal Nazi symbols such as the swastika.
German politicians and media responded with near universal outrage when, on 29 August, protesters broke through police barricades and were able to wave large Reich flags from the steps of the Reichstag, home to Germany's lower house of parliament. 
Last week, the city-state of Bremen, which is also governed by a SPD-Linke-Green coalition, was the first German state to ban Reich flags. Bremen police now have the authority to confiscate the banners and fine those carrying them in public up to €1,000.
On Saturday, Bavarian state premier Markus Söder (CSU) announced that he also wanted to ban the imperial war flags: "With such a flag you express your clear rejection of and distance from our democracy. We will not let our liberal democracy be hijacked by rightwing radicals."
The federal interior minister Horst Seehofer, also of the CSU, said he plans to discuss a nationwide ban when he meets with the interior ministers of the 16 federal states in December.
Reichsbürger joining with corona protests
The flags have been popularised in recent years through the rise of the nationalist Reichsbürger ("Reich citzens") movement, which rejects the German state in its current form - and have increasingly attracted the attention of law enforcement. In the summer of 2020, the Reichsbürger scene latched onto the corona sceptic movement and now shows up at virtually all corona protests.
"The colours refer directly to the German Reich and do not only stand for the rejection of today's liberal democracy and its institutions," said rightwing extremism researcher Bianca Klose, speaking to Berliner Zeitung. "They have also become a kind of common denominator for different milieus."
Banning such symbols is tricky because there are so many different designs of Reich flags. In Bremen, the following flags are now prohibited: the war flag of the North German Confederation/German Reich from 1867 to 1921, the German Reich from 1922 to 1933 and the German Reich from 1933 to 1935. The Reich flag from 1892 onwards and the flag of the Third Reich from 1933 to 1935 are also prohibited.
Critics say that the bans will only result in extremists switching to other types of flags.
This article was adapted from the original German by Maurice Frank.