Berlin Art Week
:
Berlin's galleries rebound – sort of
Since being permitted to re-open in May, Berlin's private galleries have been slowly recovering from the lockdown. Emergency government aid prevented bankruptcies. Gallerists hope September's Berlin Art Week will make up for missing sales.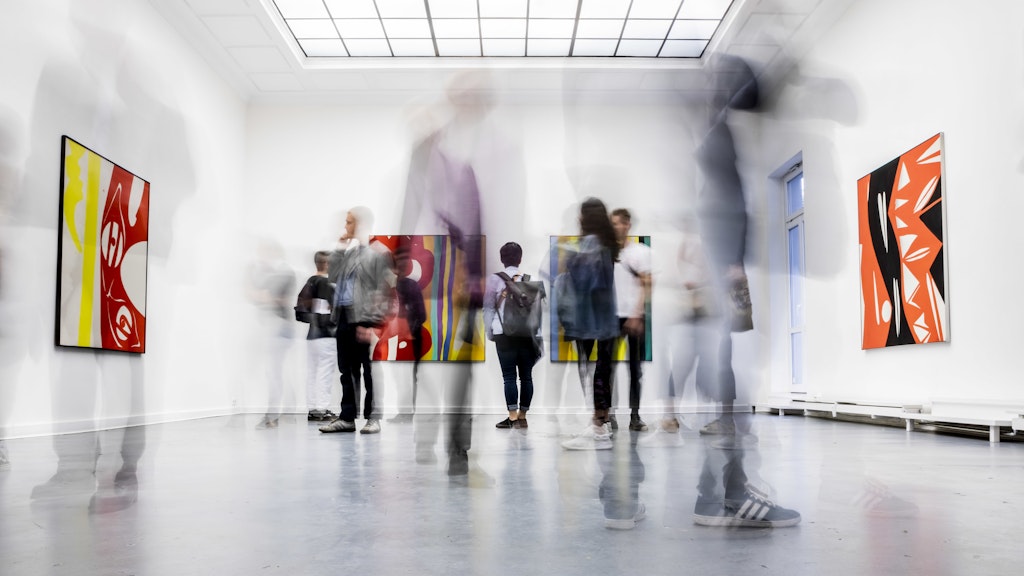 Berlin - The local art scene was already in crisis before the coronavirus reared its head in March. Anxiety had already set in. There had been talk of a "critical mass", of market saturation. There was talk of inadequate support from Berlin's political establishment. And complaints about a lack of the glamour wealthy collectors prefer when compared to marketplaces like Paris, London, New York, or the United Arab Emirates.
The euphoria of the 2000s is long gone. Gentrification, rising rents, and displacement by greedy landlords are the new reality. Right now, for example, well-known gallerists Thomas Fischer, Friedrich Look and Michael Janssen are all being forced to move from their spaces in Potsdamer Strasse. Nonetheless, most of the galleries that opened during Berlin's "art boom" – there are 400 of them – have somehow held out despite the less-than-favourable conditions in the "art city" Berlin, a place where officially at least 8,000 visual artists live and work.
According to a survey of 185 local art dealers conducted last year by the Berlin Association of Galleries (lvbg) – before the losses caused by the pandemic – 41 per cent of respondents said they made less than €100,000 in annual sales. Just 10 per cent saw turnover of at least €1m.
It won't be clear until the end of the year who made it through

Werner Tammen
Back then, 84 per cent of gallerists admitted they would no longer open a gallery if they'd known what they now knew. Maike Cruse, the organiser of Gallery Weekend for many years, said that fewer and fewer new galleries were setting up shop these days.
The association, which has been around for 25 years and now has around 100 members, is planning a new survey. "The corona period has put nearly everyone in a tight spot. Some galleries have suffered losses of up to 90 per cent but aren't complaining. It won't be clear until the end of the year who made it through and who didn't," says association chairman and Kreuzberg gallerist Werner Tammen.
So far, Tammen says, no one has had to throw in the towel, though Kirsten Weiss  was forced to "temporarily" close her gallery in Tempelhof-Schöneberg. Berlin's emergency corona aid initially helped galleries pay the rent, but now quite a few people in the art business have reached their limit.  The meagre acquisition budgets of German museums doesn't help.
There are no signs that this will change fundamentally, even though German Culture Minister Monika Grütters earmarked €2.5m for art purchases a few days ago. This money is intended for the federal collection, so Berlin can't insist on the lion's share, even though it has more artists and galleries than any other German city.
However, the crisis has seemed to boost a sense of collectivism: 30 of the "global players" among Berlin's galleries – such as Galerie Schipper, Sprüth Magers, Baudach, Meyer Riegger and Konrad Fischer – joined the lvbg. Gone is their scepticism, their arrogance towards the collective spirit. Suddenly, "together we are strong" seems to count for something. Local roots and solidarity have value.
The association is helping young galleries get their foot in the door. At this year's Art Week, the VBKI Prize, or Berlin merchant prize, will once again be awarded to young galleries thanks to the Berlin Merchants and Industrialists Association and Berlin's Department for Economy, Energy and Businesses. Gallerists Tanja Wagner, Chert Lüdde and Noah Klink have already been shortlisted for the prize, which includes €10,000 for first while second and third take €2,500 each.
Berlin's biggest shortcoming is its lack of a major art fair. Various attractive formats have been tried, but none has been successful. Berlin stopped financing the once-extravagant Art Forum in 2011 and its successor, abc, wasn't financially viable. And art berlin's partner, Cologne trade fair Koeln-Messe, pulled out because the event never broke even.
Berlin's galleries are bitterly disappointed that international fairs such as those in Hong Kong and the US aren't closer to home – corona led to the cancellation of Art Basel and Art Cologne. It's no secret that art dealers generate about 80 per cent of their turnover at national and international fairs, but must also spend up to €400,000 for fairs – for booth rentals, transport, insurance, production and personnel costs.
At this year's Berlin Art Week (11 to 15 September), the only surviving fair will be the Positions exhibition at Tempelhof Airport, once considered a side show. The event brings together small- and medium-sized galleries and lesser-known artists.
Positions, the down-to-earth fair with reasonable prices, has remained stable over the years and is treading new territory with its new Paper Positions section for art on paper. And because there's still room in Hangar 4, the Photo Basel sales show has now invited itself to the party.
The Berlin gallery scene isn't keen on all this crisis talk. Berlin Art Week – coordinated by the state-run Kulturprojekte GmbH – is now beginning to look like the last great hope for struggling commercial galleries.
Gallery Weekend, which was postponed in May due to corona, and which has seen around 50 core galleries make satisfactory sales every year, will also take place in September. A "firework display" of contemporary art has been announced as an event for collectors and amateurs alike.
And perhaps the German government's temporary VAT reduction to 16 from 19 per cent will put art lovers in a buying mood.
Berlin Art Week, 9-13 September: https://www.berlinartweek.de/en/berlin-art-week/
Berlin Gallery Weekend, 11-13 September: https://www.gallery-weekend-berlin.de/