Berlin - The boom times are back! Back in the mid-19th century factories sprang up overnight across the city. This time around it's rapid corona test centres opening up in cafés, galleries, theatres, clubs, even in churches. 

Which is great if you need to get a quick test. 
But not everyone's happy. Berlin's public health officials and politicians speak of "uncontrolled growth" and are demanding tighter regulation. No city authority currently knows how many centres are actually out there. And they warn that monitoring by district authorities is impossible.
An online search will yield plenty of centres in Berlin offering rapid tests - the kind that will inform you within 30 minutes with relatively high accuracy whether you have been infected or not. The recent boom in Berlin is partly due to the sharp increase in new infections in the city. More and more people want to play it safe with a rapid test.
Most doctors' surgeries and district health offices only test people with corona symptoms or who have had contact with infected people - and these tests are paid for by the Krankenkasse. It takes longer to get the results of the PCR tests used in this process - longer than with a rapid test in any case.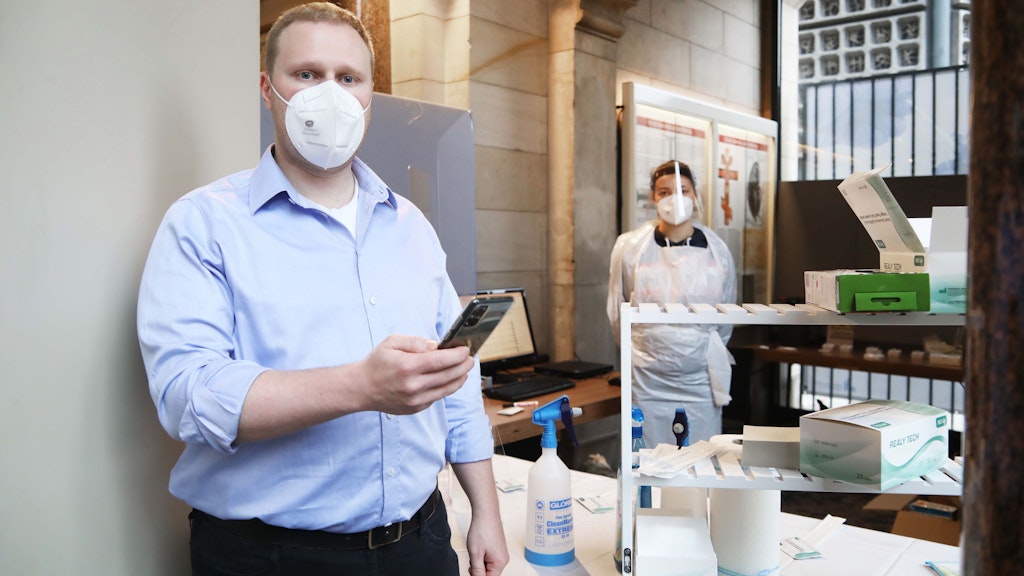 Rapid antigen tests, which have a somewhat lower accuracy rate of around 97 per cent (depending on the product), offer the possibility of testing more people and detecting infections more quickly. No wonder, then, that so many testing centres have sprung up. The people running them are doctors and laboratories, but also entrepreneurs from outside the field.
Benjamin Föckersperger, 33, first made his money developing computer games and building start-ups. Now, with his firm Föckersperger Ventures Unternehmensgesellschaft, he runs the corona rapid test stations in the Admiralspalast and the Kaiser Wilhelm Memorial Church on Breitscheidplatz.
"The reason I started this was corona cases in the family, where I witnessed how overloaded the authorities were in carrying out tests," says Föckersperger. The current situation shows that a large number and, above all, fast tests are needed to be able to quickly break chains of infection.

Self-employed nurse Dirk Heckert, who opened a rapid test centre at the Weißensee Lido three weeks ago, makes a similar case: "There was no centre in this part of town yet, although the demand was high."
Heckert, Föckersperger and other operators report that it took them no longer than a month to open their stations, a remarkable feat in a city like Berlin, where it can take months for the authorities to approve the opening of a snack bar.
No permit required
So why is it so easy to open up a quick test centre?
"Currently, no permit is required," says Pankow district health councillor Torsten Kühne (CDU). Since such centres have not existed for long, lawmakers have yet to regulate them. Although they are for-profit businesses, from a legal point of view they are treated like outpatient medical facilities that serve the public good and are therefore excluded from normal commercial regulations. There is not even an obligation to report or register anything the centres do.
"There is no oversight of where and how many private test centres exist," says Kühne. "Sometimes you get nothing more than a hygiene concept from them."
That's exactly what Dirk Heckert did for his Weißensee test centre. "Even though I didn't have to, I registered the centre with the health department and the trade office," he says. "And I even needed a permit from the Berliner Bäderbetriebe [swimming pool operator] to be able to rent the lido in Weißensee."
Föckersperger is also in contact with local health offices regarding his test centres, and has registered them with the trade offices. "Transparency is important right from the start, because corona testing is a highly sensitive issue. People's health is at stake. You should also cooperate openly with the authorities," he says.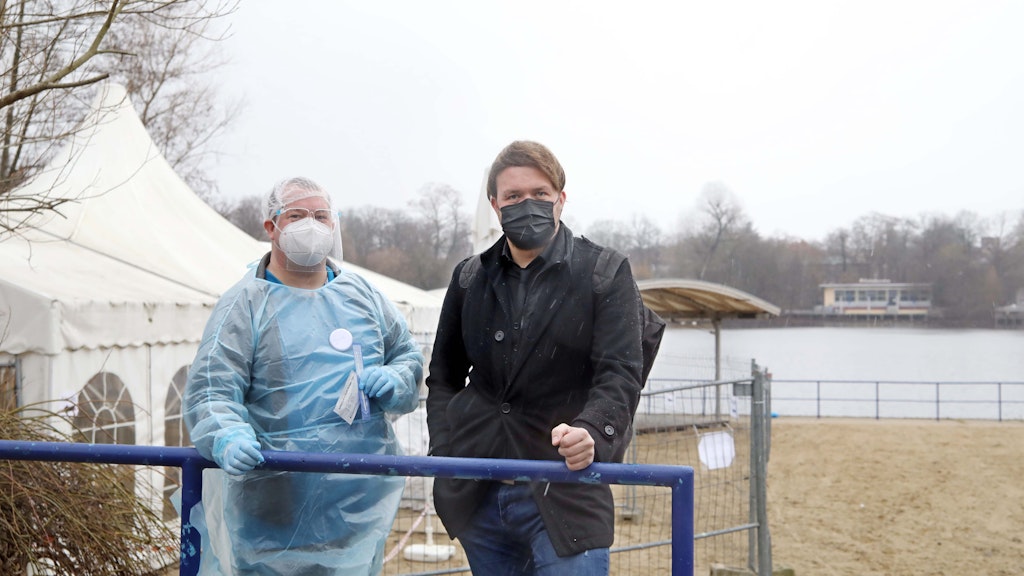 The Neukölln district councillor for health, Falko Liecke (CDU), finds it problematic that there is no obligation to register rapid test centres. "There are a lot of fortune hunters out there," says Liecke. He finds out about the new centres by chance, he added. As an example, he mentions a plastic surgeon from Vienna who asked the district authorities if he could open a test centre in Neukölln. The request was refused.
Benjamin Föckersperger finds that there are "definitely black sheep" among the competition. "Some competitors hope to make a quick buck with the quick tests," he says. This can be seen in the enormous range of prices at centres across Berlin, starting at €23 and ending at over €80. Föckersperger and Heckert charge €40 and €44.90 respectively, which is average and within the range that doctors are allowed to charge for this test according to the fee schedule. "After all, we have to pay for staff and cover operating costs," says Föckersperger.
He explains that some operators were able to make a good deal through clever tactics. After all, the rapid tests, which can only be sold to doctors or medical staff on the internet and in pharmacies, are sold at a unit price of €3-10, depending on the manufacturer and the quantity.
"If you don't follow all the rules when running your centre, if you send more than 500 people through for testing every day, you can achieve a daily turnover of up to €25,000," Föckersperger says.
Health officials demand regulations
No one is checking whether the centres comply with the test regulations. "We have a doctor from Charité hospital working in our team who got this approved. He has shown the medical staff how to correctly perform the test," says Föckersperger. "What good is a negative result that came from faulty testing if the person concerned is actually positive and infects others?"
According to the Medical Devices Dispensing Ordinance, it is compulsory that doctors or medical staff trained in testing carry out the rapid tests in the centres. Trained medical students are also allowed to work there.
The Berlin health department classifies the operation of private rapid test centres as "free enterprise". "We assume that all requirements are being met," the department said in response to an enquiry from this newspaper. However, Nicoletta Wischnewski, spokesperson for Berlin's public health officers, has urged the administration to draw up mandatory regulations for rapid test centres. In an e-mail obtained by the Berliner Zeitung, public health officers complain that such centres "do not adequately inform people who have tested positive about their new status (such as their obligation to isolate), by only sending a short text message". Those affected are not informed that a more accurate follow-up PCR test should be taken to confirm infection. Another problem is that some centres only fulfil their obligation to report positive cases to the health authorities "with considerable delay or inadequately".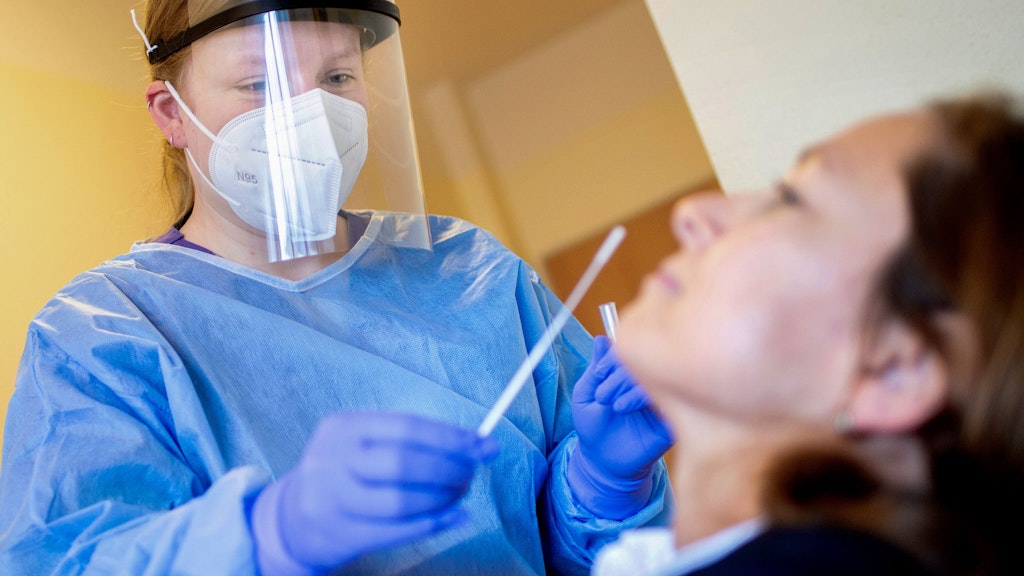 The Neukölln district mayor Martin Hikel (SPD) supports the demands of the public health officers. "It is often not clear whether the prices for such a test are appropriate and whether positive tests are reported to the right authorities. We need uniform rules and quality standards for the private rapid test centres - and fast," he told Berliner Zeitung. "Districts can't monitor something that hasn't been regulated on the federal or state level." 
Antonia Groß contributed to this article.