Berlin - Cameryn Moore is the creator and frequent host of Smut Slam, a series of wildly popular open mic events featuring first-person sex stories that has spread around the world. She lives in Berlin.
How are you coping with not being able to perform?
I am performing a fair bit, just not in person, and honestly, the first couple of months were especially rough. I pivoted Smut Slam right away to an online format, but there were a few nights in there where my eyeballs ached from trying to keep them focused on the camera, and afterward I had little meltdowns, e.g. "but I never wanted to do camera work!" <sob> But you get over that, when needs must, and after nine months of Smut Slam and other shows online, I've gotten into it. It works, maybe not the way it does in-person, but it works. Anyway, my desire for the instant boost of laughter or applause can take a back seat to people needing community and encouragement these days.
What do you miss during the corona pandemic?
Sharing food with the Smutterlings (staff and crew) after a Smut Slam. Long train rides. Wearing lipstick out in public. Rowdy event-planning sessions in coffeehouses. Clothing swaps. My hairstylist, who dropped in on one of my Facebook Live events a couple of months ago and immediately messaged me afterward, "Honey, come in, I will give you a colour job. I can help you, I want you to look your best." I didn't feel safe enough to go, but I appreciated the concern.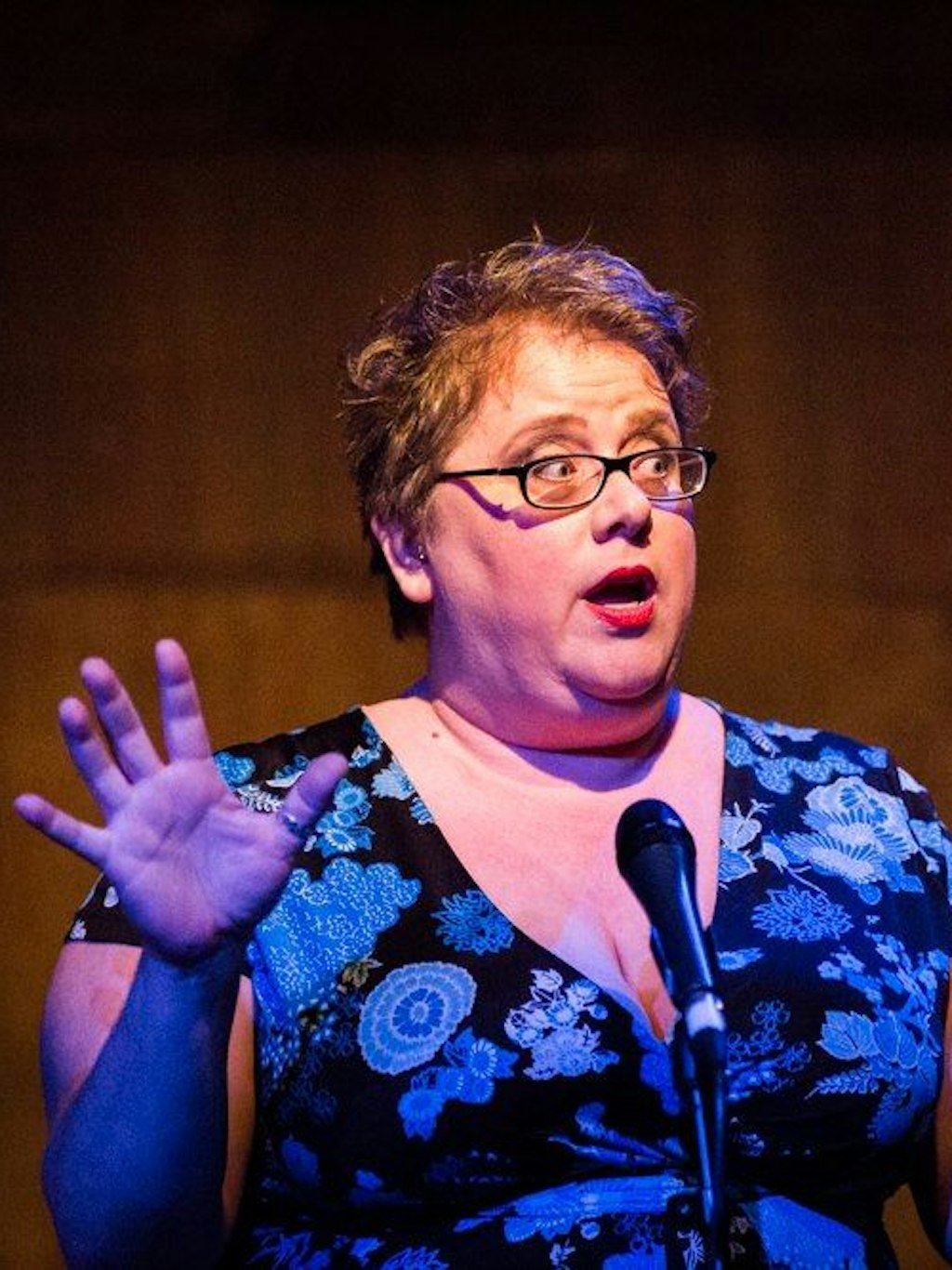 What have you been working on creatively during lockdown?
Smut Slam Europe has been regularly running online since the first day of the first lockdown - literally, our production schedule did not glitch for one day - which has meant constant tweaking of tech, trying to streamline and upgrade those home-studio production values. In the first few months of the pandemic I also Zoom-adapted my first solo play, Phone Whore, and got it out to three different fringe festivals in North America, one indie platform in Australia, and several self-produced presentations. There's a Smut Slam podcast in the works; I'd been dithering about it for several years, and well, now's a great time for it. The week of Christmas I'll be sitting down to start writing my next live show, a sort of storytelling plus walking tour plus workshop hybrid. And I've begun making lists of books to read in prep for an interactive solo drama that could potentially run both online and off. As you can see, a lot of my creative focus has gone into exploring flexible productions, works that can happen even during times when shows in traditional venues aren't possible. If 2020 has taught me anything, it is that anything can happen, and I want to stay ready for that.
Any recommendations on what do in Berlin during lockdown to fight boredom and stay sane?
Walk, if you can. I mostly have been throwing my own little daily dance party to keep moving, but on the occasions when I've gone out for a walk and turned down some random side street, I've found fun street art I didn't know about, or a confusing window display, or a patch of mint, or an office chair zu verschenken. And get your place well lit. I can't afford one of those big daylight lamps, but I've got three strands of fairy lights throwing around a lot of weight in my living room right now.
What are you looking forward to most when the pandemic is over?
Hugging friends. Travel of all kinds, complete with that feeling of relief coming back to my own bed (I'm on it all the time now, so it's just… work space). Seeing people laughing and shouting in an enclosed room at a show. The Käsekrainer from that one kiosk in the Munich Hauptbahnhof.