Opinion
:
Berlin's painful squat house dilemma
Berlin wants it all: a booming economy and a thriving alternative scene. Maintaining a balance is almost impossible.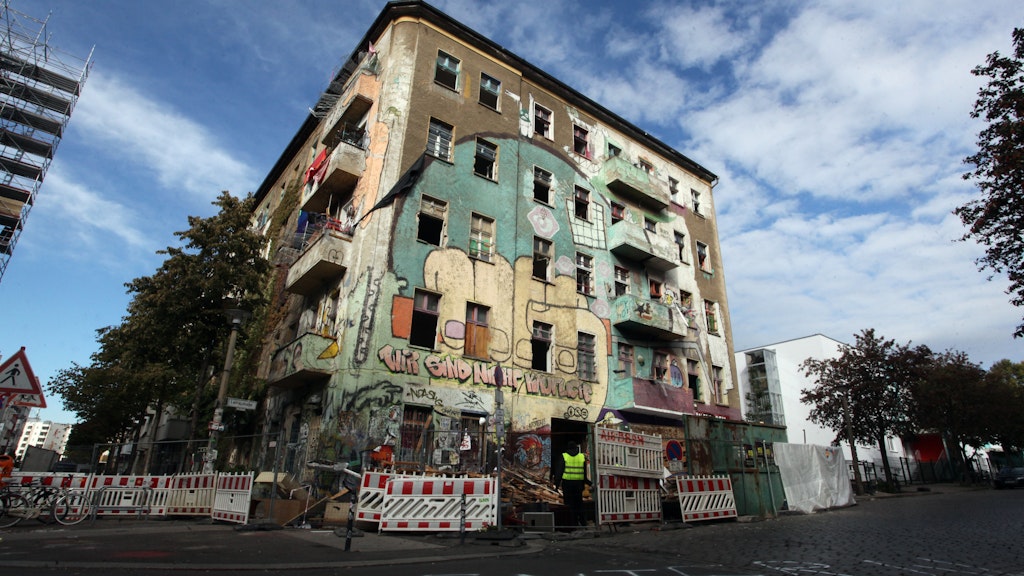 Berlin - To me, a cis man living in a nuclear family, Liebig34, the queer-feminist squat house in Friedrichshain, didn't seem like a particularly attractive place to live. I wouldn't have been welcome anyway. But that doesn't mean that I wasn't sympathetic towards the fundamental idea of people with similar interests or identities banding together and setting up a housing project. 
When I came to Berlin a couple decades ago – the squats, the ex-squats and all their offshoots – the illegal or semi-legal clubs, the Voküs, the impoverished vegan cafes, dirt cheap bars and alternative cultural centres were what made Berlin interesting: Schokoladen, Köpi, Tacheles, Acud, Tommyhaus were the ones I knew best. Some remain, some are gone.
The whole scene added hugely to my sense that Berlin was a place of experimentation, a place that generated new ideas. To this day, a little voice in my head persists: If you evict them, you destroy Berlin, building by building, street by street.
But there's another mini-me, the one that managed a small business for years in this city. Running an independent company in the cultural space – it was a magazine – is a struggle. Clients not paying their bills was an all-too-common occurence. And often, I would have to resort to the legal system to collect back payments. Sometimes this would result in the debtor's bank account being seized or a bailiff paying them a visit – awkward but necessary.
My point is: in a market economy, the state protects the rights of creditors, large and small. In my private life, I've also taken advantage of this fact: I was able to force a former landlord to return a security deposit he had owed me for years.
Why am I bringing this up? Because the forced eviction of the Liebig34 housing project from a building in Friedrichshain last Friday in an operation involving 1,500 police officers and an armoured personnel carrier isn't much different. It's the same thing at a larger scale.
The Liebig34 collective stopped paying rent a couple of years ago when a 10-year contract with the landlord ran out. So, guess what? They got evicted. After all, if you or I stopped paying the rent, we'd get evicted too. Why should the queer feminist anarchists of Liebig34 get special treatment?
The fact that such squatters reject capitalism doesn't make them exempt from the legal principles that protect both small businesses and property sharks alike. The size of the police operation seemed completely out of proportion, but it wasn't really surprising since Liebig34's far-left allies mobilised massively and showed they weren't afraid of using violence: as shown by last week's sporadic arson attacks around the city – and the ridiculous rioting through Hackescher Markt by hundreds of people claiming to "smash the patriarchy" but ended up smashing a bunch of shop windows.
Berlin has been trying to have it both ways for some time now – thriving business and a thriving underground, alternative scene.
Nonetheless, Berlin faces a dilemma and I am sympathetic to it: the city needs its squats, it needs people who live in collectives, who experiment with ways of organising and cooperating that are outside the mainstream. This helps keep alive the idea (or perhaps myth) that Berlin is still a city where an alternative to the rat race is possible, where free-thinking people can live out their identities and pursue creativity without too much economic pressure. Love it or hate it, much of the city's economy still lives off this reputation.
The dilemma lies in the fact Berlin also needs investment, jobs, new industries. And it must show to the investors of this world that their investments will be protected. The former mayor, Klaus Wowereit, made no bones about welcoming big international money with open arms. The current government seems to be a little more cautious – and has taken small steps to keep the housing market from careening out of control.
But Berlin has been trying to have it both ways for some time now – thriving business and a thriving underground, alternative scene. Slowly but surely, the balance has been tipping towards the former.
Its anarchic underground is what makes the city so attractive in the first place. Without the vast fabric of its subcultures, Berlin is little more than a sterile collection of buildings in a cold, inhospitable part of the world.
The city needs to do more to protect creative housing projects, alternative economic ventures and spaces for free thinkers. Despite the dodgy tactics of Liebig34 and its rowdy supporters, it shouldn't cave into every demand of every property developer who comes knocking.
When the Amazon tower starts sprouting out of the ground next to Warschauer Brücke in a few years – it might just be too late.
---
Maurice Frank is Chief Editor of the Berliner Zeitung English Edition. He can be reached at maurice.frank@berlinerverlag.com.