Police shooting
:
Why did police shoot Iraqi refugee Hussam Fadl?
Four years ago Hussam Fadl was shot in the back outside a refugee home by police officers, but they have yet to face any charges.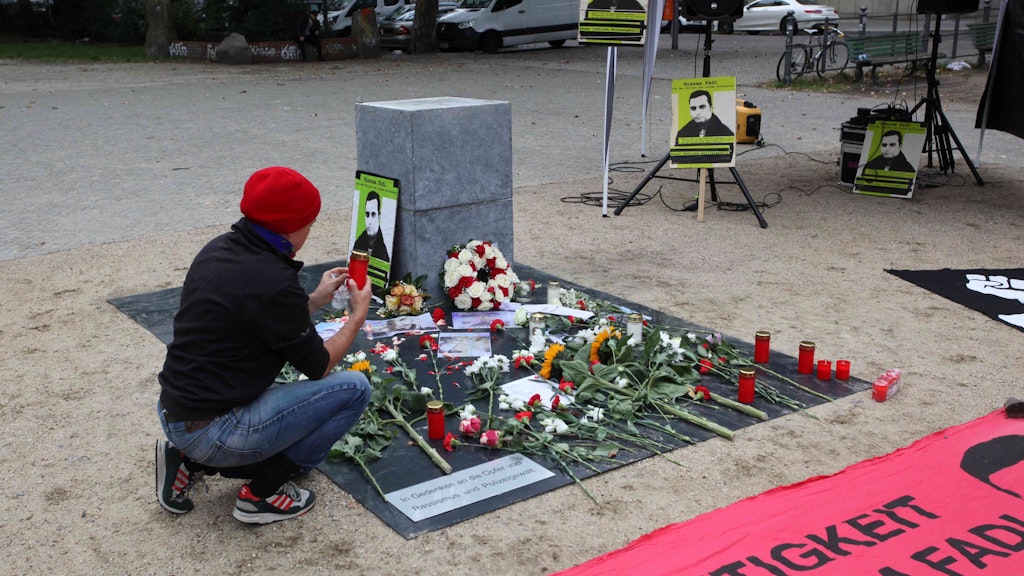 Berlin - On Sunday, around 70 demonstrators gathered on Oranienplatz in Kreuzberg to demand justice for Hussam Fadl, an Iraqi man shot and killed by police exactly four years ago.

Fadl was shot on 27 September 2016 in front of a refugee home in the Kruppstraße in Moabit. Fadl reportedly got caught between a suspected sex offender and the officers who were arresting him.
On Sunday, people laid flowers in front of am impromptu memorial to Fadl that had been spotaneously erected Saturday night. Those present openly expressed their grief – but also their anger and disbelief at the snails pace of the police investigation.
Many questions surrounding Fadl's death remain unanswered. No one has been charged with the killing and the police officers who fired the shots claim they did so in self-defence. But serious doubts have surfaced about the officers' account of the killing.
"We're demanding an indictment. It cannot be that there were no consequences for the police officers and that the case has still not been solved," a participant in the demo told the Berliner Zeitung.
Four bullets in the back
On the evening of the shooting, the police were called to the Kruppstraße refuggee home because of a suspected case of sexual abuse. A Pakistani asylum seeker had allegedly sexually assaulted Fadl's six-year-old daughter. Security guards stumbled onto the suspect as he committed the act and pulled him away from the girl.
Once police had detained the sex abuse suspect in the police car, Fadl ran towards the car in a state of anger. Police officers allegedly fired four shots at him from behind and Fadl died shortly afterwards in hospital.
A bystander had reportedly shouted that Fadl was holding a knife in his hand. Statements by officers on the scene contradict this account. And though a knife was discovered at the scene, Fadl's fingerprints were not found on it.
The Oranienplatz protesters believe the investigation has been deliberately delayed to protect the police and point to the fact that the convicted sex offender, a possible witness, was deported two years ago, perhaps also to make the investigation more difficult.
To date, there has been no evidence that Fadl was carrying a knife before he was shot and killed. The investigating state prosecutor had initially dropped the case in 2017 on the grounds of self-defence but was ordered by the Berlin Court of Appeal to reopen the case after Fadl's widow launched an appeal. 
This article was adapted from the original German by Maurice Frank.