Green transport
:
New bike-friendly streets coming to Mitte
The district is planning three new bike paths with bollards, 12 new zebra crossings – but no new pop-ups.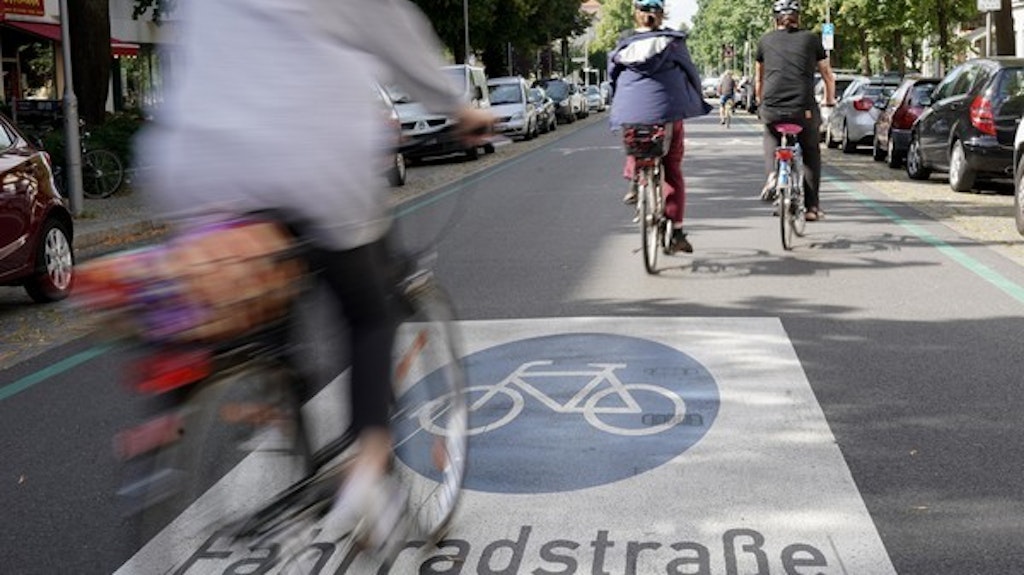 Berlin - What do those square signs with the blue and white bicycle symbols mean? They means cyclists are allowed to ride two abreast at a top speed of 30 kmph. Fahrradstraßen could make Berlin safer and more user-friendly for cyclists.
Several examples of its kind already exist in Mitte – the oldest being Linienstraße, which dates back to 2008. Now borough councillor Sabine Weißler (Greens) has announced seven more such streets. Improvements in other areas of Mitte are also being proposed which would benefit pedestrians as well as cyclists.
Triftstraße, Gerichstraße and Ungarnstraße will also become bike streets, Weißler said, while responding to a question from representative Johannes Schneider (Greens), spokesperson for finance and transport within the borough party faction. The square signs are also being proposed for Antwerpener Straße, Togostraße and Kameruner Straße, as well as on the waterfront at Alexanderufer.
In her response to Schneider's written enquiry, Weißler confirmed additional cycling provisions for Mitte were on the way, including on Französische Straße and Werdescher Markt, as well as parts of the western city centre, such as Budapester Straße and Stülerstraße.
One of the "protected bike lanes" is set to run along both sides of Amrumer Straße between Seestraße and Föhrerstraße, a stretch of 550 metres. A tender for the €170,000 contract for the project is reportedly being prepared.
Protected cycle paths are also planned for Wedding's Müllerstraße. Councillor Weißler indicated these could cover a much longer distance. However, she added that at the request of Berlin politicians, "the finished plans will have to be revised [again] to adapt them to the new mobility law."
Staff shortage could slow down plans
Meanwhile, a third Mitte street is facing a cycle update – Invalidenstraße (the site of a fatal accident resulting in four deaths involving an SUV last year) is also due to gain its own protected cycle path, Weißler confirmed.
"This completely new project has been taken on by the department for roads and recreation, as per a political request," she explained. She added that a coordinated draft plan is now available. However, she continued: "Due to the prioritising of this plan, other projects, like in Alt-Moabit for example, will have to be postponed."
Provisional pop-up lanes aren't suited to roads where there isn't a conflict between road users, Weißler said. Where this isn't the case, preliminary planning work would be required even for temporary installations – something borough chiefs don't want to have to do twice.
"To keep the financial and staff demands to a minimum, the department for roads and recreation will be working to deploy these plans as permanent measures as soon as possible," she explained – meaning the new paths will be painted in white, not the yellow of the temporary pop-ups.
Her report showed that there had been difficulties filling all vacancies in the department. It states that there are currently two full-time posts and one half-time post for cycle planning in the department for roads and recreation. However, one of the full-time positions is vacant, and the other will only be covered again from the start of October 2020. The third position is occupied by a part-time employee who is contracted to work 30 hours per week.
Improvements for local pedestrians are also on the cards. Proposals for new pedestrian crossings at 12 locations have been submitted to the department for roads. The new zebra crossings are set to appear on Berolinastraße, Sickingenstraße and Linienstraße, as well as at Michaelkirchplatz, among other places.
Mitte is also set to gain a temporary traffic-free street, creating a place for children to play, on Freienwalder Straße. Other streets in the Soldiner neighbourhood in Wedding could also become play areas on a non-permanent basis. Councillor Weißler said that Pohlstraße was one such street that could see a temporary change of use.
"The transport revolution is a marathon, not a sprint. The response to my enquiry demonstrates that many, often small steps are needed to improve travel on foot and by bike," Johannes Schneider said. "My goal is that we up our game to get these numerous projects over the finish line. I am especially pleased that in Invalidenstraße and Amrumer Straße, we will have two more streets with protected cycle paths this year. The borough is also well on the way to installing bicycle-only roads. In Wedding we will have a proper network of streets just for cyclists."
Adapted for the English Edition by Elizabeth Rushton.