Berlin - The start of corona vaccinations has led to a swift renaissance for Tegel, which ended its life as an airport 8 November but has been reborn as an immunisation centre as well as headquarters for the city's 60 mobile vaccination teams. 
The former airport's Parking Lot 3 houses the vehicles that began shuttling vaccination teams around Berlin on Sunday. Immunisations are invitation-only for the foreseeable future. 
"Two Bundeswehr (German army) soldiers will sit in each of the vehicles as drivers and record takers for patient documents," said Jürgen Uchtmann, the Bundeswehr commander in Berlin. A doctor and medical assistant will also be on-board as well as vials of vaccine, which are being stored at a secret location.
The city received its first 9,750 doses this weekend, which was less than expected. Because of the low number of doses, only the mobile teams as well as the centre in Arena in Treptow are currently vaccinating geriatric patients and medical staff. The remaining 5 centres, including the location in the former Terminal 3 at Tegel, won't open until early 2021.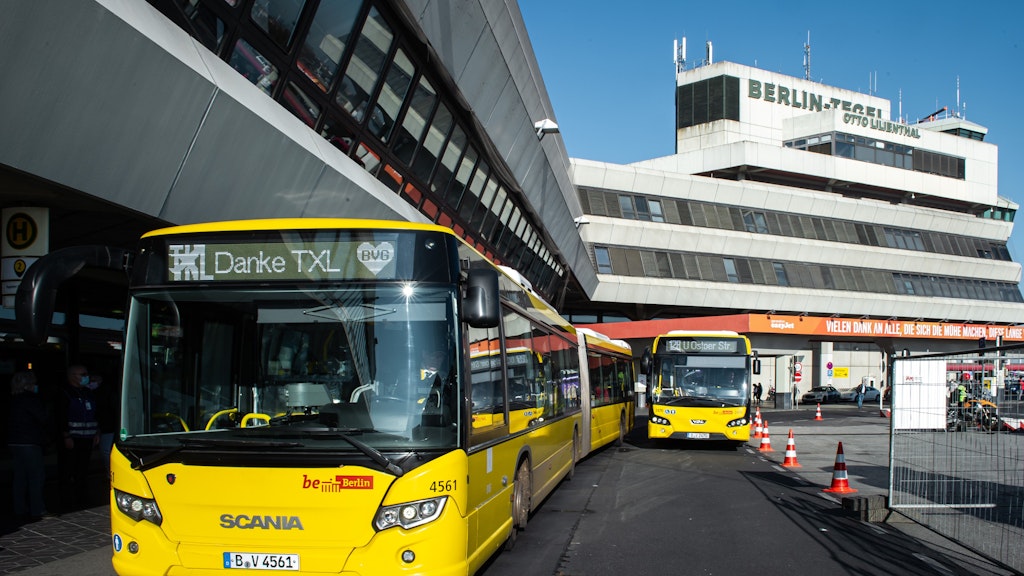 Berlin is expecting 19,500 additional doses on Monday and another 29,500 before the end of the year, according to widespread reports. Mathematically the doses are only enough for just under 25,000 people because vaccinations require two injections within 21 days. 
When production is ramped up and all centres are open, officials believe 30,000 doses will arrive in the city each week, allowing an equivalent number of injections. That number would climb should a second promising vaccination from Moderna receive approval.
The expected rush to the centres sparked public transport authority BVG to revive its special TXL bus service to shuttle patients to the hard-to-reach former airport. 
BVG has extended an existing line from Kurt-Schumacher-Platz to the former airport. The buses will stop at General-Ganeval-Brücke (formerly air cargo), where passengers will transfer to a minibus for the final trip to Terminal C.
Nursing homes vaccinated by February
The mobile teams will have a much more complex trip and will be on the road from 7.30am to 6pm, seven days a week.
"Each vaccination team can vaccinate about 50 people a day," said operations manager Sinja Meyer-Rötz. Each nursing home will be visited twice because of the two-inoculation requirement.
"We think we will have all nursing homes through within six weeks," Berlin health minister Dilek Kalayci said.