Tesla
:
The big Brandenburg gigafactory hearings kicked off on Wednesday
The electric carmaker started building its Brandenburg factory without a permit. Opponents have submitted 414 objections on the environmental impact. The EU's not happy either.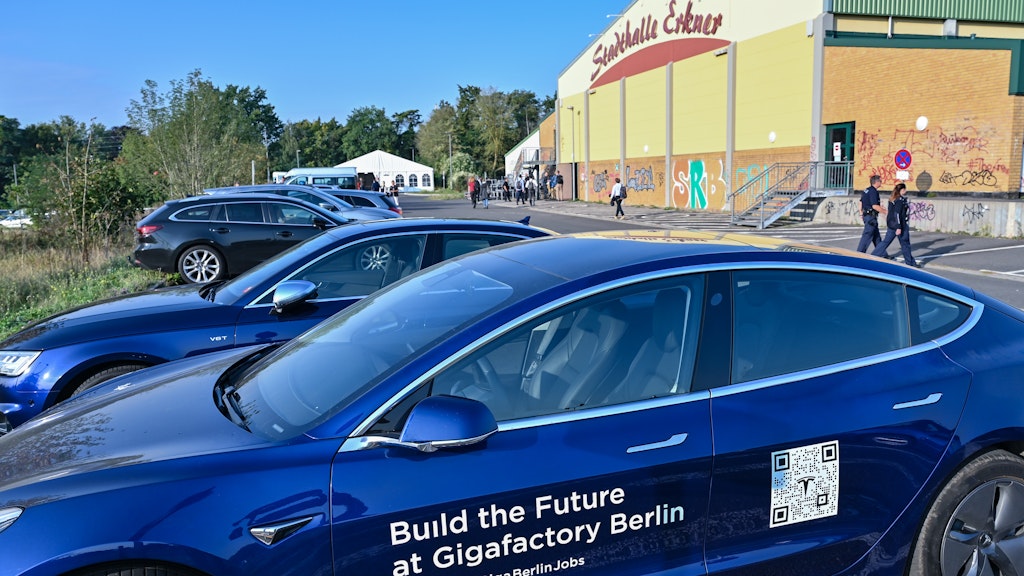 Erkner - The doors were supposed to open at 9 am. At 9.01, 19 people were queuing in front of the town auditorium in Erkner, just east of Berlin. They all came to express their displeasure about the huge car factory that is sprouting out of the ground at record pace a few kilometres away in Grünheide. It's the first public hearing on Tesla's "Gigafactory 4".
A total of 414 written objections have been received, according to Brandenburg's Environmental Agency. Only those who objected in writing are permitted to participate. They'll be given a chance to expound upon their objections before a panel of state representatives - and Tesla people.
On the evening before the hearing, the protesters suffered a defeat. One of their main criticisms of the factory is that its gargantuan water use will threaten the entire region's water supply. On Tuesday evening, some 20 Tesla opponents demonstrated in Strausberg outside a meeting of the Erkner-Strausberg water board. Despite the small protest, mayors and local leaders approved a water supply contract with the US carmaker.
"This is a bitter disappointment," Manuela Hoyer, head of the Grünheide Citizens' Initiative, told the Berliner Zeitung the next morning.
Nadine Rothmaier, head of the local chapter of Nabu, a conservation society, was also in the queue outside the hall in Erkner. Her problem with Tesla's factory? "Actually, almost everything. The planning procedure with all the expert opinions and studies should have begun a year before construction started so that all relevant aspects - including those of nature conservation - could have been thoroughly examined. Ínstead, Tesla announced its plans for Grünheide in autumn and already started building in spring without an official permit, but only with a provisional permit.
"The water supply issue is still far from resolved for Tesla's plans, which are getting bigger and bigger," she says. The required expert studies were never commissioned. No alternative sites have been sought. There is no reasonable traffic concept and no concept to compensate the clearing of forest.
"Construction must be stopped immediately," she demanded. "There can be no more premature building permits. Much more time must be taken to examine the documentation."
Around 9.20 am, they start letting people in. The line has grown really long. The hall has about 150 seats. At 10.35 a.m., negotiator Ulrich Stock says: "Please take your seats". Exactly 109 seats are occupied.
The building has been rented for three days. We'll see if that's enough time to give a proper hearing to all 414 objections. 
Meanwhile, EU environment commissioner Virginijus Sinkevičius has for the first time expressed concern about the project's potential impact on the nearby Löcknitztal EU nature reserve, saying: "It is up to the relevant national authorities to determine whether a project is likely to have significant adverse effects and thus to subject it to an appropriate assessment."
Tesla CEO Elon Musk doesn't seem worried by any of this. At a recent visit to the construction site, he said Grünheide would be the "most environmentally friendly factory in the world."
Citizen complaints, EU criticism, and the desire of powerful state politicians to get the project approved: the Brandenburg Environmental Agency has seldom been under such immense pressure from all sides. Stay tuned.