Berlin - A hot shower can be a way to kickstart your day or relax in the evening. It can be more than just getting clean, a shower can offer physical and psychological comfort – and brighten your mood.
But what if you don't have a shower? An estimated 6,000 to 9,000 people in Berlin have no roof over their heads, about 2,500 of them women, according to Berlin's homeless aid organisation.
If that wasn't bad enough, this year's corona restrictions have meant reduced services for the homeless. Currently, very few beds are reserved for women in shelters across the city – just 30, estimates Ursula Snay of the Catholic Women's Social Service (SKF). Mixed-gender emergency shelters exist, but they too can only offer a limited number of spaces because of corona.  

The Duschmobil or "showermobile", run by SKF, is doing what it can to help. It's the first and only mobile shower for women in Germany. The camper van has been available since September 2019 five days a week at seven locations in Berlin.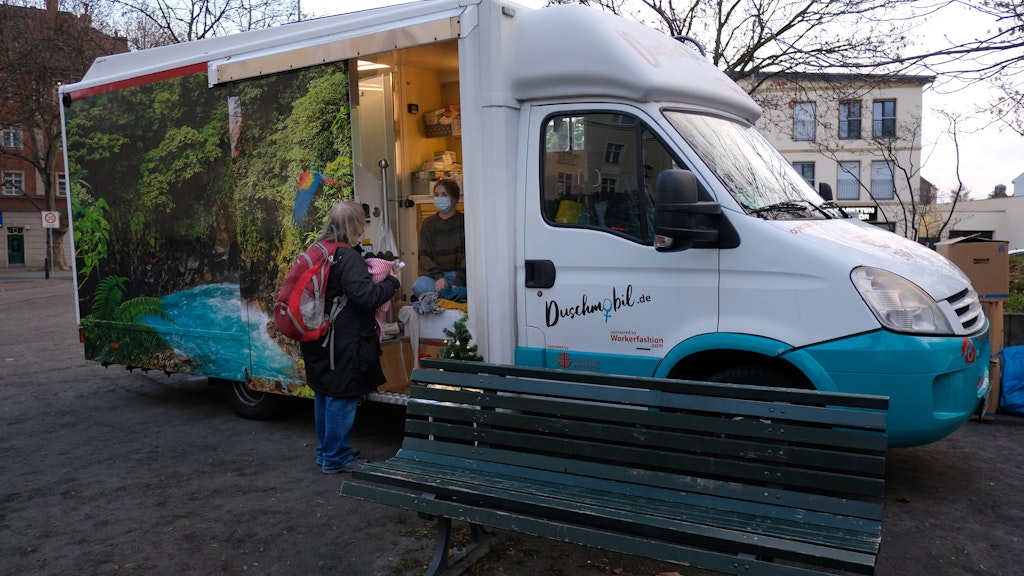 On Thursdays, for example, the Duschmobil is parked at Franz-Neumann-Platz in Reinickendorf next to a food bank run by another Christian organisation. On the outside, there's a giant photo of a waterfall in a jungle. The surprisingly spacious interior has a seating area and a bright bathroom.

Women who are homeless or seeking shelter for other reasons can go and wash in peace, no questions asked.
"The women are allowed to be themselves and take as long as they want," Snay says. Even if women don't feel like taking a shower, two social workers hand out hygiene products and care packages. Coffee is available for visitors, as is a spare chair for a quiet moment. No woman has to justify her neediness or explain herself.
Most have experienced sexualised violence
The staff also offer advice, refer guests to a facility – or just chat with them.
"They say social workers just drink coffee, but drinking coffee is important," laughs Ella Winkelmann. She's been guiding the shower on wheels through the city since May and estimates that about 15 women per month actually come to take a shower, but roughly 10 women per day drop by for other reasons.
The fact that the threshold to use the service is so low is particularly helpful in the current crisis.

Many come by a few times before they're actually trusting enough to close the door to the mobile washroom, Winkelmann says. Many of the women have gone through traumatic experience and most have experienced sexual violence, making it hard for them to establish trust.
For some, violence in a relationship is the reason for their homelessness. For those who are completely homeless, the assaults often continue on the street. Too often, perpetrators take advantage of their vulnerability.
A shelter for femininity
For some women, the showermobile is an opportunity to take care of menstrual hygiene in a clean environment. Others use the retreat to maintain their dignity and femininity through body care. Sanitary pads, tampons and fresh underwear are available, as are deodorant, face cream and make-up.
The mobile shower acts as a shelter, which is why it is only open to women.
A woman's external appearance can offer protection. If a woman is well-groomed, poverty is less visible, and she is more protected from stigmatisation and she can hide her vulnerability.
"Often you don't even see the homelessness. You're surprised when you then hear that she spends her nights in the forest," Winkelmann says. 
The fact that the service is only for women has often led to conflict for Ella Winkelmann and her colleagues. They say that passers-by, exclusively men, sometimes see the service as an invitation to provoke or even insult them.
The Duschmobil's annual expenses of €129,000 are picked up by Berlin, and the city-state has included it in its budget through the end of 2021. The subsidy covers staff wages and the van's operating costs. Donations bring in hygiene items and articles of clothing.
Donations of warm clothing and hygiene products for women can be done by mail. Packages can be sent to Eva's Haltestelle ("Eva's Stop"), a facility that caters to the needs of homeless women, at Müllerstraße 126, 13349 Berlin. Donations should be marked c/o Duschmobil.