14.10.20 update
:
Today's corona news in 60 seconds
+++ Acrimony over ad +++ bigwigs in Berlin +++ business bummer +++ the stats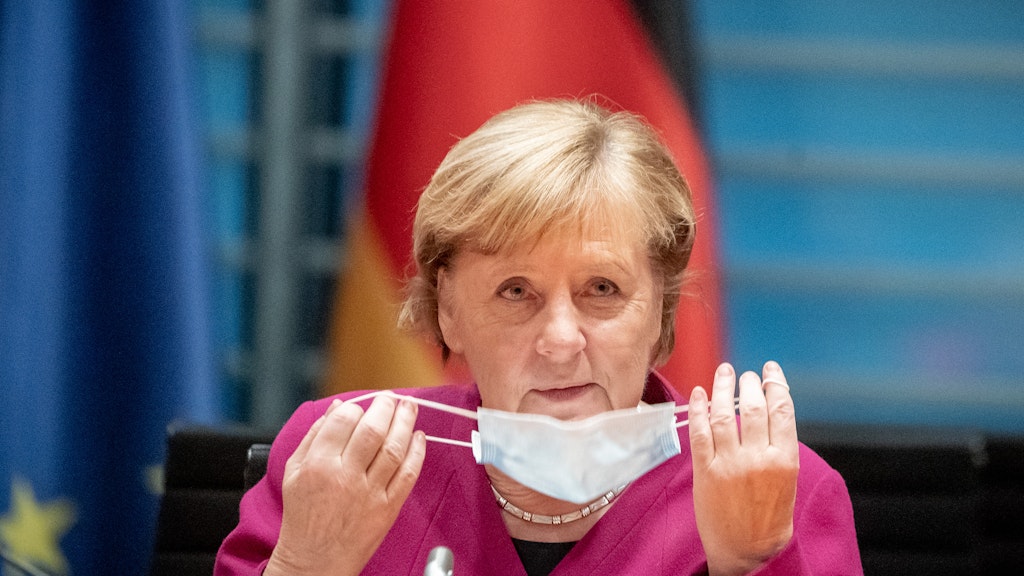 Berlin - Every weekday at 11am come to the Berliner Zeitung English Edition for the latest corona/Covid-19 news at a glance.
🚥 First, the official corona stats for Berlin (tallied Monday, 12 October)
🟢 R number: 1.09 (1.20 Monday)
🔴 New infections per week: 71.5 / 100,000 inhabitants (63.2 Monday)
🟢 Share of Berlin ICUs occupied by Covid-19 patients: 3.8 per cent (3.5 per cent Monday)
Total number of corona deaths: 236 (2 new)
Source: Berlin's coronavirus status page 
The lowdown...
Berlin being sued over middle-finger corona ad

Give someone the finger in Germany and you could face a significant fine but if a grey-haired woman in a mask does it on a poster, it's just an ad. Berlin's Visitberlin marketing department developed the controversial image to encourage people to wear masks but Berlin parliamentarian Marcel Luthe is having trouble finding the humour: he's filed charges of incitement against the Berlin government and the departments responsible for the campaign. He says it singles out people who are unable to wear a mask, regardless of reason - like under six-year-olds. Editors note: he recently left the business-friendly FDP in part because of their support of government corona policies. Hmm.

Bar owner loses corona lawsuit
Norbert Finke, owner of Charlottenburg toilet-themed bar Das Klo, has lost a lawsuit he filed against the city government. Finke was suing Berlin for damages incurred during spring lockdown. He told Berliner Zeitung he will most certainly appeal the decision. 
Face-to-face summit to get German corona chaos sorted
Chancellor Angela Merkel is meeting with the heads of Germany's 16 states on Wednesday in-person for the first time during the pandemic. The group is expected to discuss the patchwork of regulations that prohibit residents of risk areas from traveling to regions with lower incidence levels within Germany. It's unclear if any new measures will be announced following the Berlin meeting but the leaders of Meck-Pomm and Bavaria, Manuela Schwesig and Markus Söder, respectively, want clear and possibly more strict national guidelines to prevent another lockdown.

How screwed is the economy?
It's bad, but it could be a lot worse. The German economy hasn't rebounded from the onset of the pandemic as well as predicted, sparking the country's biggest economic institutions to lower their predictions on gross domestic product: GDP is now expected to shrink 5.4 per cent this year, rather than an earlier forecast of 4.2 per cent, with next year's recovery growth seen at 4.7 per cent rather than 5.8 per cent. Tourism and restaurants are suffering but overall income has remained surprisingly stable. Translation: get through the winter and you should be OK, economically speaking.

In case you missed it...
Two Berlin entrepreneurs teamed up this summer to create a balcony-sourced hot sauce that featured exclusively Berlin ingredients. Although the first batch is already gone, they've promised another. Check out our story here.

That's all for now folks. Have a healthy Wednesday!
Yours,
The Berliner Zeitung English team