Art
:
Belarusian artist Marina Naprushkina has "no time for art"
With her new show in Wedding, the Berlin-based artist wants to make the art world more accessible. We talked to her about art as activism, Belarus' struggle for democracy, and escaping the "white cube".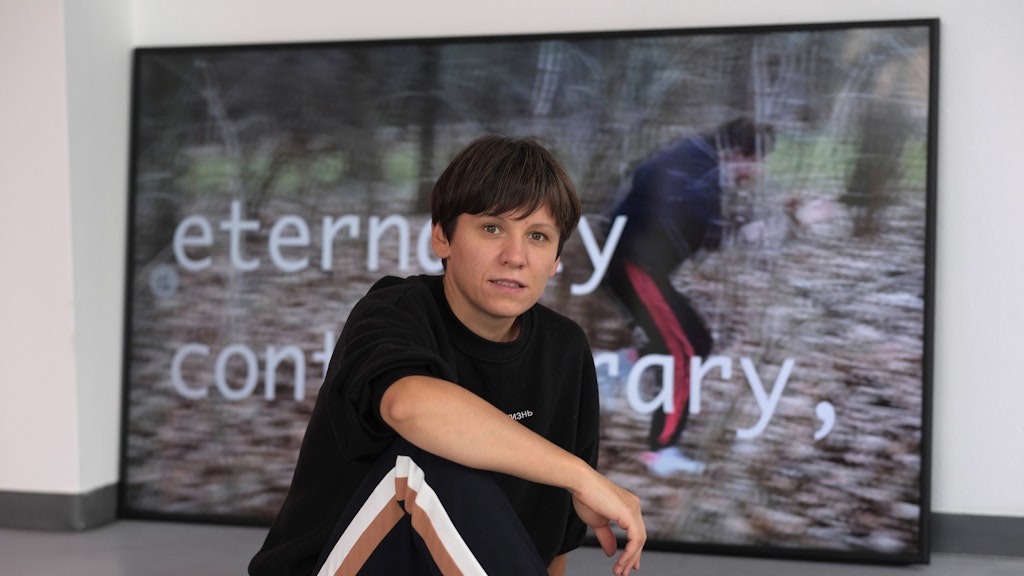 Berlin -  The title of Belarusian artist Marina Naprushkina's new exhibition, Keine Zeit für Kunst (No Time for Art), could be interpreted in a number of different ways. It could be seen as a reference to the ongoing cultural shutdown wrought by coronavirus, or as a reflection of the lives of those who have collaborated with 38-year-old Naprushkina on the exhibition – members of the immigrant and refugee communities involved in the various community projects she leads, people who she argues are typically not made to feel welcome in the art world. 
Or it could be interpreted against the current political backdrop of her native country, where public outrage about August's bungled presidential election has given way to a time of fierce protest and struggle for change.
The aim of Naprushkina's exhibition at Galerie Wedding – Raum für zeitgenössische Kunst is to rebuke these titular ideas with a collection intended to challenge conceptions of traditional art spaces and convey essentially political messages. Reminders of the context in which all the featured works are presented is never far away – since March, the gallery's space has been simultaneously used as a waiting room and consultation area for local residents in need of welfare support. At the request of the social welfare office, the new setup has been incorporated into the gallery's exhibitions over the last few months. However, Mitte district mayor Stephan von Dassel (Greens) has agreed that the space will be returned to full gallery use by 15 October, following a request from the gallery's artistic and administrative management, Solvej Helweg Ovesen and Ute Müller-Tischler.
Open from Friday, Keine Zeit für Kunst presents its ideas through a range of media – video, textiles, photography – and a combination of Naprushkina's own work and projects that have come together through her work with Moabit Mountain College, a joint learning initiative arising from Neue Nachbarschaft/Moabit (New Neighbourhood), the refugee and neighbourhood project she founded in 2013. It has since grown to one of the largest community organisations in Berlin. The exhibition's expressed aim is to "redefine the concept of social sculpture and the tradition of socially engaged art, which largely questions conventional art institutions and exhibition formats". Through a range of literary texts written by project participants and a programme of in-person events, the idea is to provide more than just things to look at.
Escaping the "white cube"
Naprushkina wants to break out of the "white cube" of the traditional gallery space – a plain, overlit room with paintings hanging on the walls and no interaction or engagement with the work on display. She says this arrangement can make art feel inaccessible, and is committed to fighting against it. In August, she and Russian artist Joulia Strauss curated an exhibition of posters displayed on the scaffolding at Rathaus Tiergarten.
"An overexposed room can really repel people," she told us when we visited the gallery ahead of the opening of the exhibition. "We have designed this space differently to make access as easy as possible. The door is always open, so that people don't have inhibitions about coming in, and when they are inside we can talk to them and it's kind of a process.
"This is not a traditional room – it's important to offer varied exhibitions that run across different disciplines as a conscious decision. This is not an art space or a literary space, the point is that it works like a place of learning and stays that way."
Naprushkina speaks with urgency about the need for something to change in the art world, for a greater understanding that the standardised working conditions for contemporary artists run the risk of shutting people out. "The older you get, if you have a family, as a woman, the fewer opportunities you have to stay in this field," she explains. "Art, like any other work, arises from time and concentration and for someone who doesn't have these working conditions at all, then that becomes a big problem for society, because art and artists do important work in society… The working conditions that you can normally rely on in any other profession are very precarious for artists."
The "precariousness" she speaks of has only been compounded by the arrival of coronavirus. The exhibition is going ahead with limits on the number of people who can be in the gallery at a time, and the Moabit Mountain College Panel, a programme of readings, lectures and concerts associated with the exhibition, will be presented outside on the Rathausvorplatz next to the gallery between 20 and 26 September. But Naprushkina says more effort is needed on the part of officials to allow a more full return of cultural activities.
She said: "All we can do is hope that the weather will be good next week and that we will still be able to hold our events, but that's about it. If there are no events on, and people can't exchange ideas socially and intellectually, that will be a real step backwards. Apart from the pandemic and the virus, there is also a very real danger that many people will somehow suffer psychologically or health-wise as a result."
"We have to learn something from the crisis, socially and also in our institutions, so that they become more accessible. Many institutions are trying to rethink what they can do in an open, public space, how they can actually give the artists the opportunity to work on something. We really have to think critically and ask ourselves what we can do in this situation, how can we show solidarity with one another so that people are not lost – whether by dropping out of the field or even worse.
"You have to take the risks seriously and see what the rules are, but you have to think actively about how you can do something to still keep things going. With choirs, singing, help is needed to find an open-air situation, and financial help is needed to ensure that such an institution survives. Art is part of Berlin too, and if that isn't preserved, then I think a lot of people won't stay here. If politics doesn't do something about it, the consequences will soon be felt. Someone has to take control of the situation quickly."
Catching up to do
At Neue Nachbarschaft and Moabit Mountain College, art is used as a learning mechanism to bring together people from a diverse spread of cultural backgrounds and dismantle prejudice – something that can be hard to achieve through official mechanisms. Naprushkina says she founded it in 2013 "out of necessity" as a way to help newly arrived immigrants and refugees feel part of a new community, and some of the pieces in the exhibition, like 2013's "Red Moabit", reflect some of the life experiences in Germany faced by the approximately 400 people involved in the dual initiatives. Not all of those are positive.
I believe we have a society that is not so open to new arrivals

Marina Naprushkina
"In Germany, I believe we have a society that is not so open to new arrivals," Naprushkina says. "It's difficult for them to get ahead - you can maybe participate in society a little bit, but in many places, whether it's intentional or not, we are still far removed from a point where having influence or taking positions in society is easy for newcomers here.
"I have nothing to complain about, I am very active and I do a lot, but I see the massive difficulties people have to deal with and this exclusion, this everyday discrimination, and in how many places it happens. We need institutional and political change so that people are somehow helped to make their own progress."
Naprushkina came to Germany in 2000 to study at the Fine Arts Academy in Karlsruhe, and has now been living in Berlin for a decade. "When I first came here, the first question was always 'where are you from?' and the second question was always 'when are you going home?'," she says. "Today people really don't ask those questions - but I'm in Berlin, a lot of things are different here compared to other places… there is still a lot of catching up to do in many areas."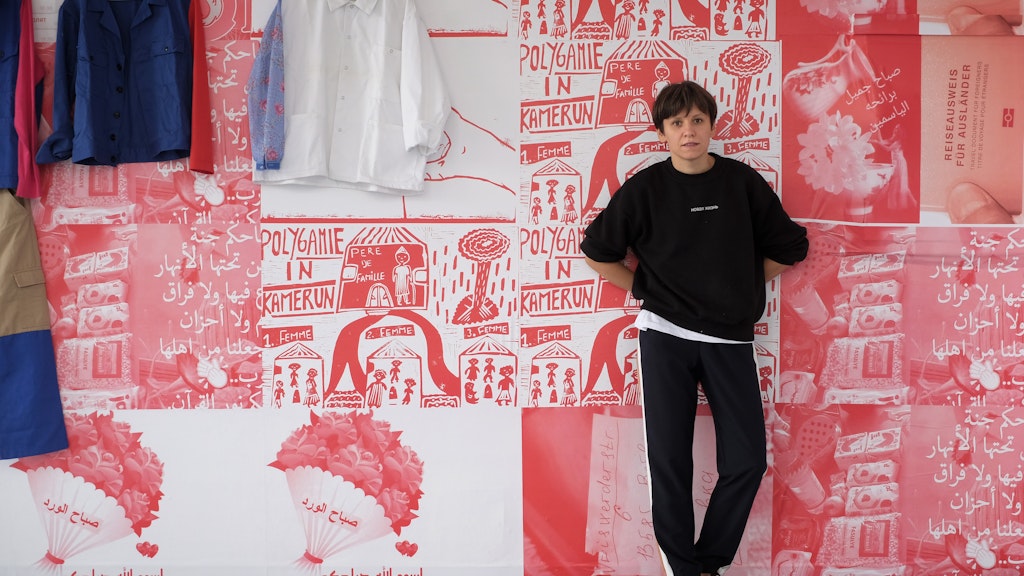 The exhibition's unabashed political nature is not just evident through its stance on issues of prejudice and belonging in contemporary Germany, but also the space dedicated to events continuing to unfold in Naprushkina's home country of Belarus. The pro-democracy protests, which are of unprecedented scale in the country sometimes called Europe's last dictatorship, are of great personal importance to her, as is apparent through the mementoes presented in the exhibition from the recent 10 days she spent back home in Minsk. Slogans painted on tea towels vow to "defeat the fascist patriarchy", while video footage recorded from the window of the flat she grew up in depicts a stream of protesters taking to the streets for the first time on election night.
"These are circumstances in which you just can't function normally," she says. "I go into these chats all the time, where you personally know the people who are being arrested, and that's almost unbearable. You feel completely helpless, and don't know what you can do. But right now I have an exhibition and of course I'm trying to use it to create awareness of the situation in Belarus as well. That's something I can do." Speaking in German, she prefers to refer to the country as Belarus rather than the more literal and conventionally used 'Weißrussland' (white Russia). "There are decolonial debates going on everywhere right now, so we can't go on using this colonial name 'Weißrussland'," she explains. "I'm very happy that so many institutions have finally taken this on."
Naprushkina's values of engendering solidarity and building up those often pushed out of society, particularly women, have particular resonance with the female-led popular movement in Belarus. She speaks of her "pride" and "admiration" for the courage of protesters, who have continued to take to the streets in the face of extreme police brutality and mass imprisonment. "What people are doing out on the streets now is something we have not seen in Europe for many years," she says. "People are fighting with such bravery, the risks are extremely high."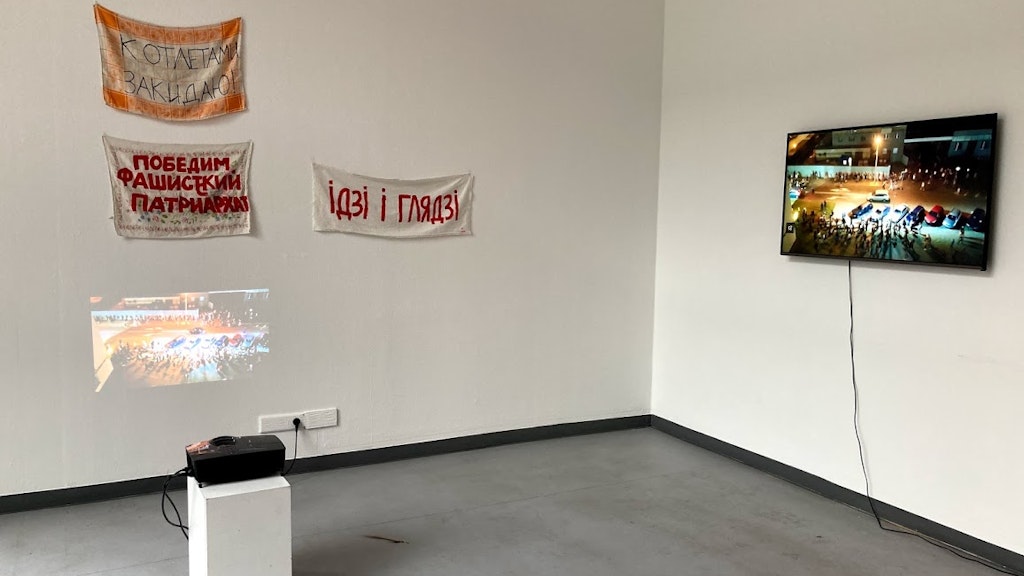 She adds: "In Belarus women have always been very important politically, but that hasn't always been visible at the top. When it comes to political posts or even to positions of symbolic power, women have often been harassed and pressurised.
"I think it's no coincidence that this massive movement has been led by women. The corona crisis and the younger generation of course play a role, there are many arguments being made as to why things are so different this time. But I think what actually plays a big role is that these women who have lived through so much suffering, how they have performed, the tools they have found to give people the right to their vote, means that people are now talking very, very differently, there are different ideas about how to fight properly, a lot of things have been done differently - and these things are working."
The artist says she is optimistic about the movement's prospects, and doesn't think Alexander Lukashenko, who claimed victory in August's election with an alleged 80 per cent landslide, will hang on to power for much longer. She intends to do her bit from Berlin, working with a recently founded association for Belarusians living here to deliver talks and form plans for coordinated action in solidarity with those on the ground. But she will be occupied with more local causes too – in August, Neue was announced as part of a coalition which will be working to reopen the outdoor swimming resort at Lake Tegel as a "centre for recreation and culture" in May 2021.
Through Keine Zeit für Kunst's deliberately varied and interactive use of contemporary and media, Naprushkina wants to convey the idea to her audience that art is an essential tool to be used for the expression of lesser heard voices and ideas, and for educational ends – whether an individual piece focuses on an immigrant experience in one corner of Berlin, or a national movement hundreds of miles away. "Art brings with it many opportunities to talk about things that can't be discussed so well in other environments," she explains. "We can take the serious problem of intolerance against gay people as an example. The first to be open to it, or to address it, were the artists, and through this the discussion around it developed. Racism has long been addressed by artists.
"In other words, there are many topics that may not be easy to discuss within state institutions or in other official settings, but art is where it starts. It is very, very important that you have this freedom to talk about what is not so well recognized in society. That is the important thing. It is a process in which people can work on themselves, grow further, it is an emancipatory process."
Keine Zeit für Kunst is on at Galerie Wedding – Raum für zeitgenössische Kunst, Müllerstraße 146/147, from September 11 through to October 31, 12-7pm Tuesday to Saturday. Entry is free and non-restricted.
More information about the exhibition and its programme is available at www.galeriewedding.de/keine-zeit-fuer-kunst/.