Corona pandemic
:
Time to mask up at the office
From Saturday, 3 October, Berliners will have to wear face masks at the office. Also coming: nationwide changes regarding parties and fines.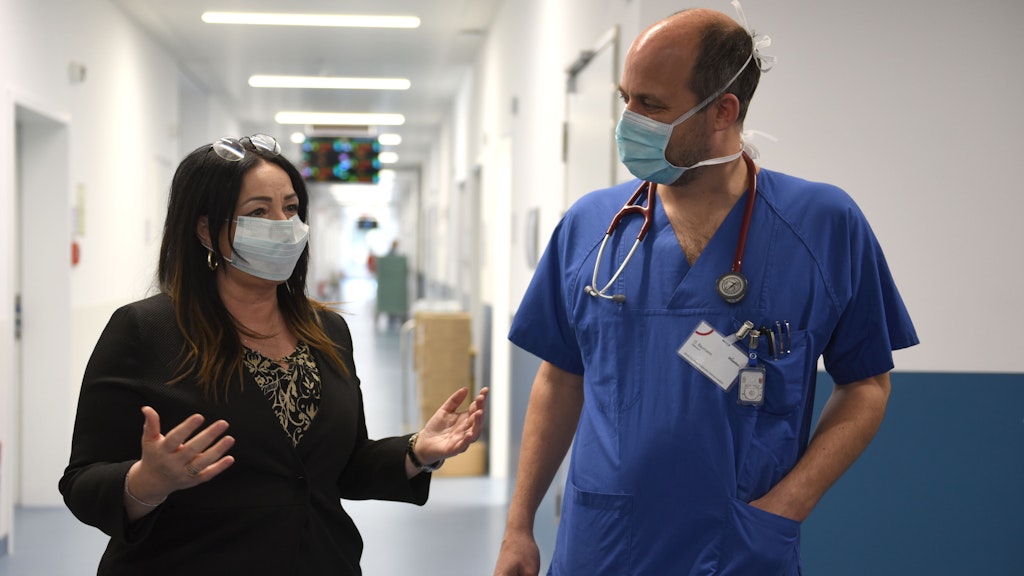 Berlin - Berliners and people across Germany now face stricter anti-corona rules, including compulsory wearing of face masks and extra caps on gatherings, following meetings in the Berlin Senat and between chancellor Angela Merkel and Germany's regional heads of government on Tuesday.
Masks at the office
From Saturday, 3 October masks will be compulsory in Berlin's offices and administrative buildings. The Senat said the new rules have been necessitated by the recent increase in coronavirus infection numbers. The new mask obligation doesn't mean you have to wear one at your desk – but you will have to make sure not to forget a face covering as soon as you get up from it.
The Senat also confirmed the enaction of new national measures agreed by chancellor Angela Merkel and the leaders of Germany's 16 federal states at a virtual meeting on Tuesday. Across the country, anyone who gives incorrect contact details when registering at a restaurant or another hospitality establishment will now have to pay a minimum fine of €50. 
Cap on party-goers - but Spätis are safe
Gatherings in public or private settings in Berlin will now be limited to a maximum of 50 people from this weekend. Senat economics minister Ramona Pop (Greens) said the new cap was not a recommendation, but an instruction enforceable with a fine. Organisers of any gathering of at least 10 people will be required to take a list of attendees' contact details to provide for a potential outbreak situation. Private events indoors are capped at 25 people, while events that have a "professional hygiene regime" in place are not affected by the new rule. 
However, in the rest of the country, the restriction will only apply in areas that register an average of more than 35 new infections per 100,000 residents in a seven-day period - and Berlin's most recently recorded rate of new infections stood at 28.9 on Tuesday. Berlin mayor Michael Müller (SPD) said the city's different path was appropriate to the challenges it faces as a large city, with other major cities like Hamburg, Cologne and Frankfurt recording similar situations with regard to the virus.
The Senat rejected a number of new measures proposed by health minister Dilek Kalayci, including a temporary ban on alcohol sales. They also rejected her proposal to limit outdoor gatherings to five people or to members of just two households if the rate of new infections exceeds 30 per 100,000. Culture minister Klaus Lederer (Linke) was one of those against the proposed measure, saying: "The danger of infection is much higher in enclosed spaces than it is outside. Driving people inside would only make things worse."
The number of new infections in Berlin has risen sharply lately, alarming politicians. As of Tuesday, a rate of 28.9 people per 100,000 residents within seven days had been confirmed as infected with coronavirus. This value, which is important for evaluating the infection rate, is higher in the capital than in any other German state - however, there are limits to comparing a densely populated metropolis like Berlin and more rural areas of the country.
Could I get fired for not wearing a mask?
So far the new mask rule has not gone down well on social media – people want to know what the consequences will be for those who don't follow the new rules. Could non-mask wearers risk an official caution, or even being fired?
Employment rights lawyers Alexander Bredereck and Attila Fodor say the previously existing rules of social distancing, hygiene measures and wearing a mask must be enforced. They added: "If an employer is obligated to any corona-related measures as result of any official directive or risk assessment, they are allowed to demand compliance from their employees. If employees do not comply, they will be breaching their employment commitments, which their employer is allowed to respond to with sanctions."
Put simply, the lawyers say: "If an employee refuses to wear a mask despite having received a warning, their employer could conceivably be within their rights to fire them."
Legal consultants DGB Rechtschutz GmbH, which is an offshoot of the German Trade Union Confederation (Deutscher Gewerkschaftsbund) and offers legal advice to more than six million union members, said: "In principle, employers will be able to order their employees to wear masks on company premises during the pandemic. However, employees can refuse if they are unreasonably burdened by the mask. This could be the case with asthmatics, for example."
It remains unclear whether certificates confirming exemption from compulsory mask wearing will be widely accepted, or if affected employees will be required to work from home instead. Labour rights lawyers Bredereck and Fodor said: "What happens if an employee presents a medical certificate confirming that wearing a mask could actually be detrimental to their health? Would they be allowed to pass on wearing a mask despite the official rules?"
Bredereck and Fodor believe an employee would not be allowed to do this. In the case of an existing mask requirement, a medical certificate exempting the patient from the mask requirement "means that the employee is now deemed unfit for work. This is because, for health reasons, they cannot carry out the work specified in their contract – during the pandemic, this includes working with a face mask if ordered to do so". According to the lawyers, a doctor would have to write a note confirming the affected person as "unable to work".
If a doctor will not do this, an employer would then have to "send the employee home and continue to pay them until masks are no longer compulsory or a way for the employee to continue their work without a mask can be found," the pair said.
Fines for fake customer info 
Berliners are now subject to new measures introduced nationally, including an instruction to restaurants to make sure customers are providing accurate information on themselves. Following an online meeting with state leaders on Tuesday, Chancellor Merkel said: "When in doubt, people should be asked to show proof of ID." However, it was unclear from her statement whether bar and restaurant managers now have a legal obligation to check details are accurate or to deal with the situation themselves if they are not.
In some parts of the country, residents will face much higher penalties for flouting the registration requirements. In North Rhine Westphalia, those who provide fake details will face fines of €250, while in Schleswig-Holstein, it's €1,000 - and managers who have incorrect details on their contact lists will face a fine of at least €500. The chancellor added that in the future, new measures will be introduced for specific regions and on a targeted basis in order to prevent a second shutdown. "We have learned that we shouldn't do the same thing for everyone, but can act on a balanced regional basis."
Bavarian state prime minister - and hopeful CDU chancellor candidate - Markus Söder said action was needed now to prevent another full national lockdown, with protection of workplaces, schools and childcare facilities being prioritised.
Chancellor Merkel has warned that if Germany's exponential rate of growth in new cases continues – doubling around once a month – then the country could be looking at 19,200 new cases a day by Christmas.
The new national corona rules in full
Fines - Anyone who provides incorrect personal details when visiting a restaurant or other such establishment can expect a fine of at least €50. Establishment managers will be required to check that submitted information is accurate.
Alcohol - In areas where infection numbers are increasing, "bans on selling alcohol for a limited time period" are to be enforced to bring down infections arising from the gastronomy sector. The Senat rejected plans to introduce this in Berlin - so our Spätis are safe for now.
Parties - Each federal state is to set upper limits in two levels for the maximum number of participants allowed at private parties. If an area registers a rate of 35 new infections per 100,000 residents within seven days, gatherings in public places or private spaces like restaurants may only be attended by a maximum of 50 people. Maximum attendance of 25 people is "strongly recommended" – but is not compulsory. If an area records 50 new infections per 100,000 residents within seven days, a maximum of 25 people will be allowed at public or private parties, with an upper limit of just 10 people  "strongly recommended" for private functions.
Regional outbreaks - If a region or city-state (such as Berlin) records a rate of 50 cases per 100,000 residents within seven days, a "logically consistent system of restrictions" should be enacted "immediately" – even if that only applies to one affected institution or facility.
Early warning system - The 16 states should set up a "suitable early warning system" to make breaches of the 50-person rule as avoidable as possible.
Extra flu facilities - If the expected wave of autumn and winter flu infections overlaps with the pandemic, space and demand could become much tighter in doctors' surgeries and hospitals. Extra outpatient facilities for flu patients, as well as specific consultation hours and practice facilities for vulnerable groups should help to relieve the strain.
More AHA-rules - The AHA rules (Abstand – Hygiene – Alltagsmaske, social distancing – hygiene – wear a mask) already advise social distancing of 1.5 metres, hygiene methods like handwashing, and the everyday wearing of masks. Two new letters are now set to join the acronym – C, for corona warning app, and L for Lüften (ventilation).
This article was adapted for the English edition by Elizabeth Rushton.